The most wonderful time of the year is upon us. It's a time for festivity, family, friends, and great food. While our holiday gatherings may look a little different in 2020, it's still a season to celebrate. It's a bright time and it's the right time to think about making our homes comfy and cozy for our families.
How to Create a More Comfortable Home for the Holidays
When the weather outside is frightful, there's nothing better than coming home to a warm house and a mug of your favorite hot beverage. However, for many homeowners it can be difficult and expensive to maintain a pleasant temperature inside during the winter season. Your heating system works nonstop to crank out warm air, just to have cold air seep in through inefficient windows, skylights, and door frames. This has undesirable effects on your comfort, your energy bills, and ultimately, the environment.
One of the most impactful investments you can make to improve the comfort of your home this holiday season is insulating window film. Insulating films, also known as low-emissivity or low-e window films, can be applied to glass surfaces including windows and doors to seal in manmade heat and block out the frosty air.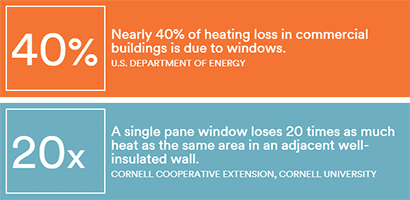 According to the U.S. Department of Energy, 30% of the energy used to heat and cool homes in the United States ends up going out the window – literally. In fact, according to research by the Cornell Cooperative Extension of Cornell University, a single-pane window loses 20 times as much heat as the same surface area in an adjacent well-insulated wall. Insulating window films like 3M's Thinsulate Climate Control Window Film can help to address the least efficient parts of your home, yielding a number of benefits.
Benefits of Insulating Window Film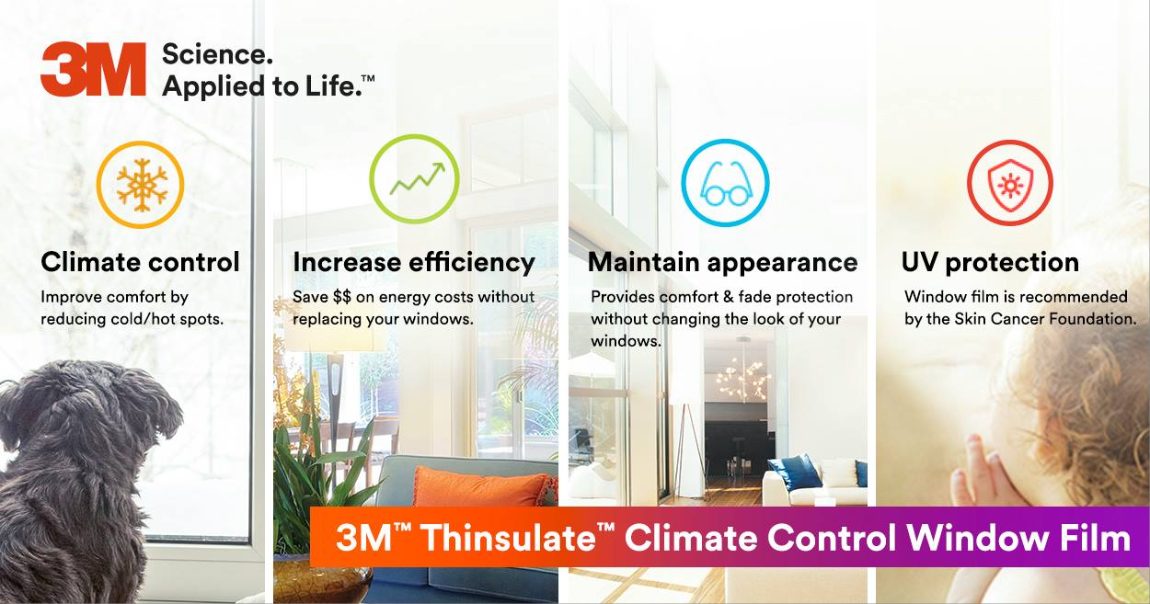 Year-Round Temperature Control
Insulating window films don't just keep your home cozy in the winter time, they keep you comfortable year round. In the summer, the same insulating technology blocks out incoming solar heat to keep the temperature inside cool. There's no need to subject yourself to the whims of mother nature. Keep the weather outside where it belongs and maintain a pleasant temperature at home – all year long.
Increase Efficiency & Save Money
For those of us living in the northeast, it's common for our energy bills to spike in the winter months as our HVAC systems struggle against the freezing temperatures outside. Investing in a low-e window film helps to address one of the least efficient aspects of your home – the windows. Insulating window films are a much smaller investment than replacement windows, with similar effects.
Installing 3M's Thinsulate Climate Control Window Film on existing windows has a comparable impact to adding an additional pane of glass – effectively transforming a single-pane window into a double-pane, or a double-pane window into a triple. Insulating your windows to improve energy efficiency has a two-fold money-saving effect: it will help to lower your energy bills and reduce the expense associated with maintaining your HVAC system. Less demand on your heating and cooling system throughout the year means lower regular maintenance costs and longer system lifespan.
Maintain the Appearance of Your Home & the Views You Enjoy
Insulating films like 3M Thinsulate Window Film are virtually clear, so they will not have a noticeable effect on the appearance of windows. Whether you're admiring your home from the outside or enjoying the surrounding views from inside your living space, you won't notice any change in appearance after installing the film.
Reduce Glare & Block UV Light
Like many 3M window films, the Thinsulate series also offers glare reduction and UV protection. Depending on the film that you select, you can enjoy up to 59% glare reduction. So, your days will still be merry and bright, but not so bright that your eyes hurt when the sun shines through your windows.
By blocking out up to 99.9% of the sun's ultraviolet rays, 3M Thinsulate Window Film will reduce fading of furniture, hardwood floors, and artwork. Perhaps more importantly, by blocking UV rays, this insulating film will also protect your family from the potentially damaging effects of UV exposure.
Contact New York Window Film for a No Obligation Estimate
If you're interested in learning more about insulating your existing windows with 3M Thinsulate, contact us today for a no obligation estimate. We would be happy to help bring a little more comfort and joy to your home this holiday season.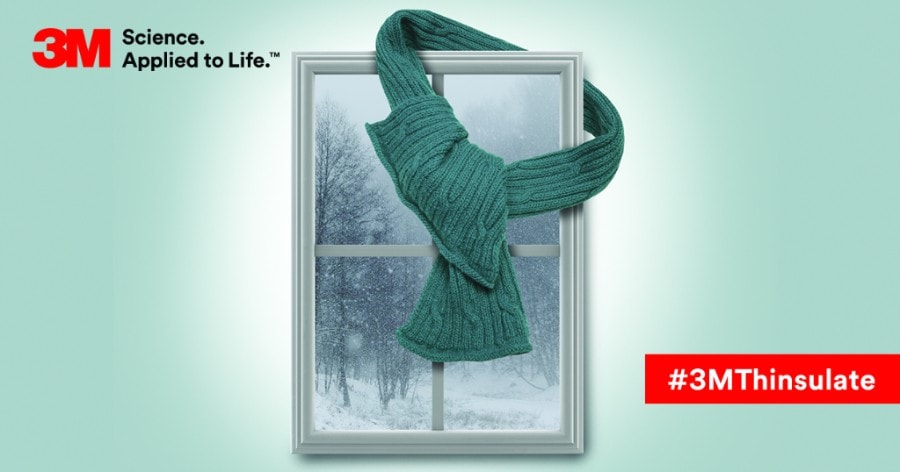 New York Window Film provides high-quality products and window film installations to Metropolitan New York, Long Island, New Jersey, and Connecticut. With window film solutions for both residential and commercial spaces, our products can help you achieve anything from sun control and security to decorative enhancement and privacy. Call us at (631) 420-4101 or (212) 256-1414 for more information, or request a quote online.