The workplace should be a safe space. Employees should be able to go to the office and focus on the main objective — work! Unfortunately, the workplace can be subject to danger. When an employee doesn't feel comfortable and safe at work, it can impact their productivity. More importantly, it is detrimental to their overall happiness and livelihood. From bomb blasts and inclement weather to lack of privacy or potential collision into clear glass walls, there are many dangers within the workplace. Luckily, there is a window film solution that can address many of these issues that can help increase safety at work.
Elevate Safety with Our Window Film Products
It's no secret that windows are an architectural necessity within the workplace. After all, occupants of your space likely desire natural lighting and outdoor views. However, problems arise when windows open up your space to external threats. From bomb blasts and inclement weather to break-ins, windows can be easily broken, potentially harming those inside. Luckily, with 3M Safety and Security Window Film, you can enhance the security of window glass.
3M Safety and Security Window Film adds an extra layer of protection to windows. It is specially designed to stretch rather than tear. As a result, should a window ever be broken, this film can hold the glass in place to minimize the damage caused by flying shards of glass. Not to mention, its ability to hold the glass in place can buy extra time for those inside to respond in an emergency situation. While we can't predict dangerous events, 3M Safety and Security Window Film can prepare your space for whatever comes its way.
Storefronts and entryways are vulnerable to many external factors, including vandalism like graffiti! This not only impacts the appearance of your space, but it can also deter people from entering due to its seemingly unkempt appearance. As a result, you'll need to be able to handle damage from graffiti as quickly as possible. Luckily, 3M Anti-Graffiti Window Film can help.
3M Anti-Graffiti Window Film is applied to windows, adding an invisible layer of protection. When an unprotected window is graffitied, it will need to be cleaned or replaced, both of which might take a significant amount of time. On the other hand, a window protected by 3M Anti-Graffiti Window Film means easy cleanup. Once the graffitied film is peeled off, it will reveal clean, untouched glass. Not to mention, this window film won't change the appearance of your space, allowing for invisible protection against vandals. 3M Anti-Graffiti Window Film minimizes the impact of graffiti by allowing for easy clean-up and virtually invisible protection.
Glass conference room walls and doors have become increasingly popular in workplace architecture. The sleek, clean look it provides allows for a bright, open workspace! However, crystal clear glass can lead to the possibility of collision. The result? Potentially an injured employee and damaged glass! Minimize damage and harm with distraction markers.
With distraction markers, you can maintain the sleek, modern feel of a glass-filled workplace while enhancing safety to eliminate the likelihood of a collision. Distraction markers are applied directly onto glass surfaces and can feature patterns or text. The designs on the glass make it more noticeable to ensure people recognize the glass in front of them. Available in a variety of shapes and patterns, distraction markers can also add a unique element of design throughout your workplace!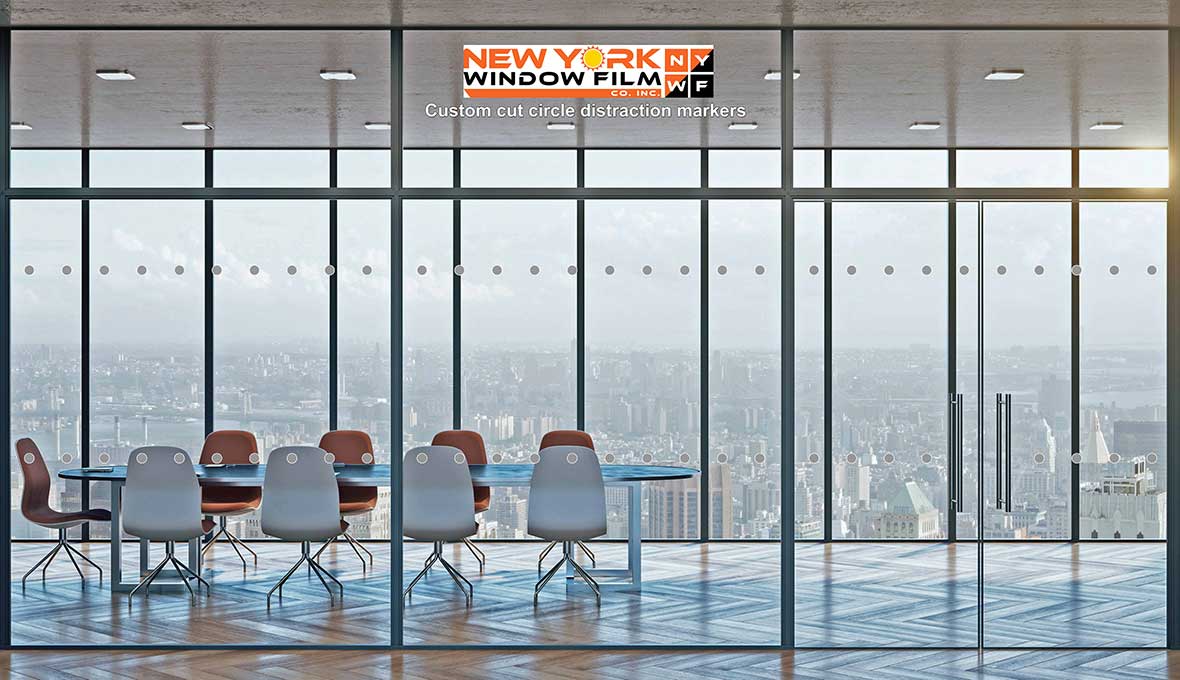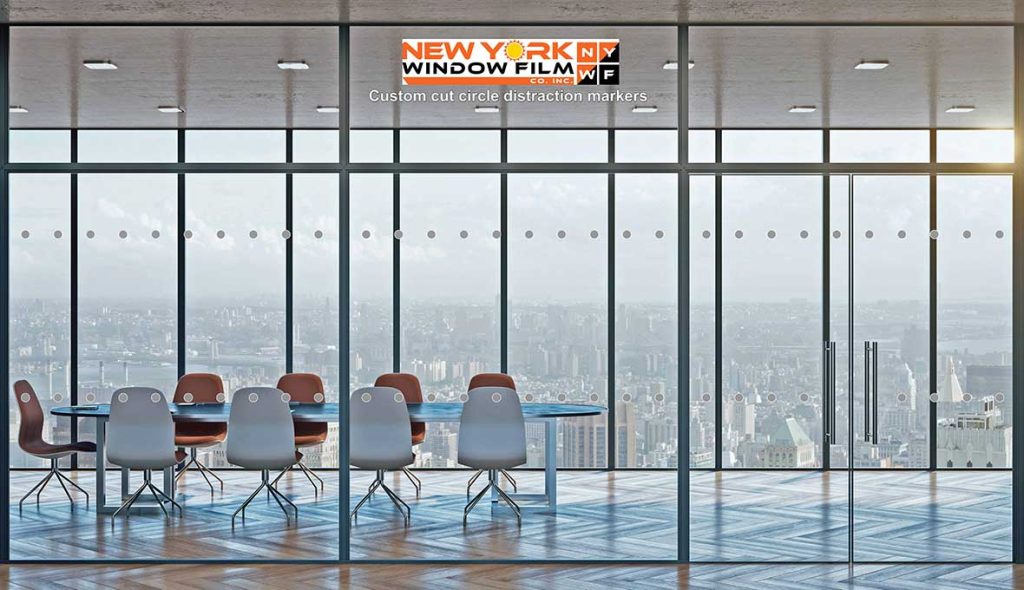 When we think of safety, we typically think of the physical well-being of people. However, in the workplace, there are times when it's also important to keep information safe! When privacy is crucial, glass conference room windows and walls make confidentiality difficult to achieve. While curtains and blinds are an option, they can ruin the aesthetics of your interior. That's where Casper Cloaking Film comes in.
Casper Cloaking Film allows you to maintain the open-space, modern feel while keeping sensitive information presented on technology screens private. To someone outside of the glass, TV and computer screens will appear completely black. However, those inside the glass conference room will be able to see items on technology screens perfectly! Casper Cloaking Film increases privacy, without changing the appearance of glass.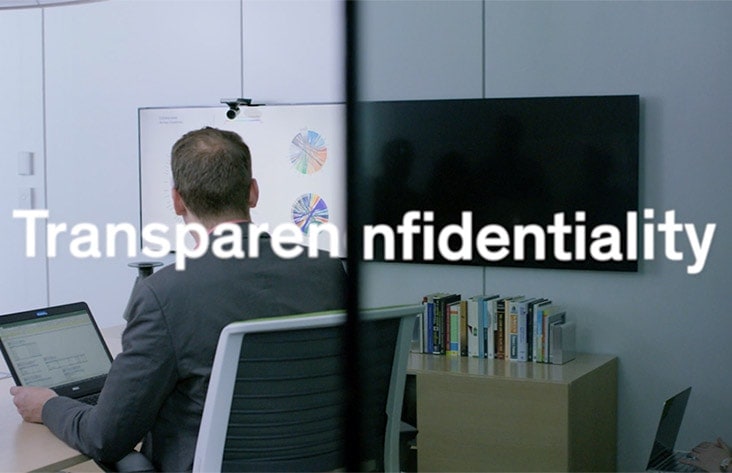 Workplace safety isn't just important to occupants of the building. Windows are actually incredibly dangerous for birds! Did you know, up to one billion birds die each year in the United States by flying into windows? Birds have difficulty recognizing that the glass is a barrier. Additionally, during mating season, male birds think that their reflection is another bird. No matter the reason, flying into windows can oftentimes be fatal for birds. Not to mention, it can also cause damage to the windows of your building! Luckily, Bird Safety Film can help.
Bird Safety Film can be used to reduce the likelihood of birds flying into your building. They are designed to be inconspicuous, so they won't noticeably alter the appearance of your building. However, they are available in a variety of subtle patterns and textures to ensure the glass is noticeable to birds. By reducing the likelihood of a collision by a bird, you're also mitigating the risk of damage to your space! Protect birds while also protecting the exterior of your building.
From increased confidentiality to enhanced security against external factors, there are many different ways to improve safety at work, inside and out. A window film professional from New York Window Film can help you discover the perfect film for your space. When you invest in window film, you're also investing in the overall comfort of your employees.
New York Window Film provides high-quality products and window film installations to Metropolitan New York, Long Island, New Jersey, and Connecticut. With window film solutions for both residential and commercial spaces, our products can help you achieve anything from sun control and security to decorative enhancement and privacy. Call us at (631) 420-4101 or (212) 256-1414 for more information, or click here for a no-obligation estimate.